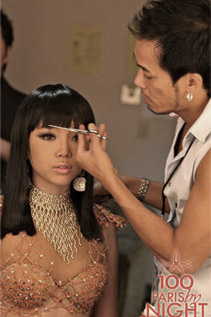 Haircut and Styling
Men and Women - Le Brian has a full staff to meet your needs for washing, cutting, coloring, styling and blow-drying. Le Brian takes pride in its reputation for using an experienced staff to ensure you get professional results and feel pampered. Le Brian also offers a full line of popular hair styling products and equipment for sampling and purchase.
Brazilian Blowout – Le Brian offers this very innovative and effective professional smoothing treatment. Through the use of a nutrient complex and a proprietary polymer system, the treatment actually improves hair condition by creating a protective protein layer around the hair shaft to eliminate frizz. The end result is smooth, healthy, conditioned hair with radiant shine. It has been our experience, that the best candidates are people with frizzy, damaged or processed hair.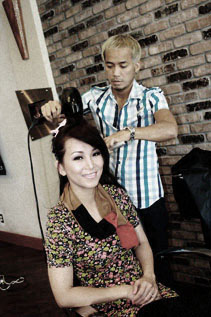 Extensions
Conventional - Le Brian performs conventional hair extensions using real hair. No hair is kept in stock, so a salon consultation is necessary to assess your needs at least one day before your actual appointment.
Eyelashes - Le Brian can apply conventional false eyelashes or perform a more intensive application where eyelashes are applied one lash at a time for a more subtle and realistic look.
Feathers - Le Brian can apply feather extensions as a subtle accent or to make a playful and wild statement. Feathers come in a broad spectrum of colors and a variety of lengths, from 3 to 16 inches. They can be brushed, blow-dried, straightened and curled. Basically, they can be treated like natural hair. They will remain in place up to 2 months, depending on how they're cared for. Most extensions are a 4-feather grouping of individual feathers bonded at the tip. Come by and inquire. Only real bird feathers are used and Le Brian keeps some stock on hand. Come by for a free consultation.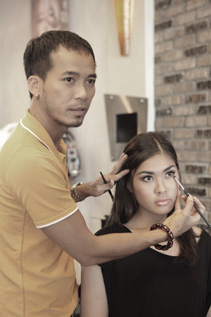 Make-up
Weddings – Using our experience staff, make-up and hair styling can be done for the bride and bridesmaids early in the morning with touch-ups in the afternoon. Hairstyles can be different between day and evening with optional accessories. A salon consultation with Phillip is best to help you plan. Slots are limited and appointments are typically made months in advance, so it's a good idea to book and place a deposit as soon as you have your special day set. Studio make-up can also be done for your wedding photo shoot day.
Stage or Party make-up – Performed anytime, even as a walk-in. The work is performed with popular cosmetic lines which comprises select shades and colors ideal for an Asian complexion.